"This Can't Be Right" is a journal about my second year of Taking Cross Seriously. Why the name? Cross is chaotic and messy, and there's a lot to learn, from building the right kind of fitness, to bike maintenance, to race knowledge, and technical skills. Usually it's a bit of a head-scratcher. Maybe writing about it will help?
Okay. #roadisdone. Time to start thinking about setting up the 'cross calendar for the upcoming season. How? Here's how I do it. YMMV, and all of that.
Define your #goals
Last year, I had two goals: be competitive in the big races; move from Cat5 to Cat3.
Why big races: In my first season, I got SMOKED at DCCX and NBX – no joke at DCCX I had a shoe come off in a muddy corner – which was educational but not particularly fun. But these big events seemed like The Real Deal and I wanted to be good at that kind of thing.
Why 5 » 3: To put a finer point on the above, I wanted to be racing with The Real Racers in the afternoon, where there are crowds that are cheering/heckling everyone. Seemed fun!
Entering this season, my goal is to be competitive in any Cat3 race, big or small. And to score a couple upgrade points if I can.
How many races?
I did 19 races last season, across 10 weekends, from September to December.[1] My main focus was two-day events, or weekends that had two races in the same region that could be done with a single trip. I generally recommend this approach. Adding a second day to the weekend does increase the cost some, primarily driven by car rental and hotel costs, but you can split these costs with friends or other racers in the area. And a full weekend is much more fun than a single race, not least because your second day will probably go better than the first – you'll be closer to the venue on Day 2, know the course better, and the fields tend to be smaller.[2]
This season, I have 24 races on the calendar, from September 10 to December 10, but I may add two at the end, depending on how I'm feeling. I think 20+ CX races is probably too many for an amateur racer – I can tell you that I was feeling very done by mid-December last year. Further, the costs are fairly high. I'm preparing for 24+ races to cost around $5,000.[3] However, there are lots of ways to get the cost down by sharing cars and AirBnBs with other racers, so I hope I can significantly undercut this figure.
Categorizing Races
Generally, I put cyclocross races into three categories, and you need a mix of all three in your calendar.
Major, full-weekend events. These events generally have UCI C1 or C2 status and attract top US pros. The courses are stable (and awesome, and sometimes very hard) year-on-year and draw large fields. As a result, they've got good vendors on-site, beer gardens, etc., along with a level of organization that feels very put-together and slick. Also the weather for these big weekend events is usually warm enough to facilitate being on-site all day. As the year progresses to the truly cold months, these big C1/C2 races become a little less enjoyable. Still fun, but the cold is a real factor, especially for those racing in the AM.
With all that in mind, you should definitely prioritize these big races. They're the proper introduction to the culture of 'cross: get your ass kicked by 100+ racers, see the pros, and learn.
My picks:
Nittany
Charm City
Gloucester
DCCX
HPCX
Northampton
Super Cross
NBX
Small, local races. Put on by awesome groups of local volunteers. Smaller-scale in every way: smaller fields; occasionally less technical, or feature-heavy courses; fewer big name pros; you might need to bring your own beer. Also unlikely that anyone will be cheering for you or heckling you unless you bring them in your car. If these are late in the year, plan to be extremely cold.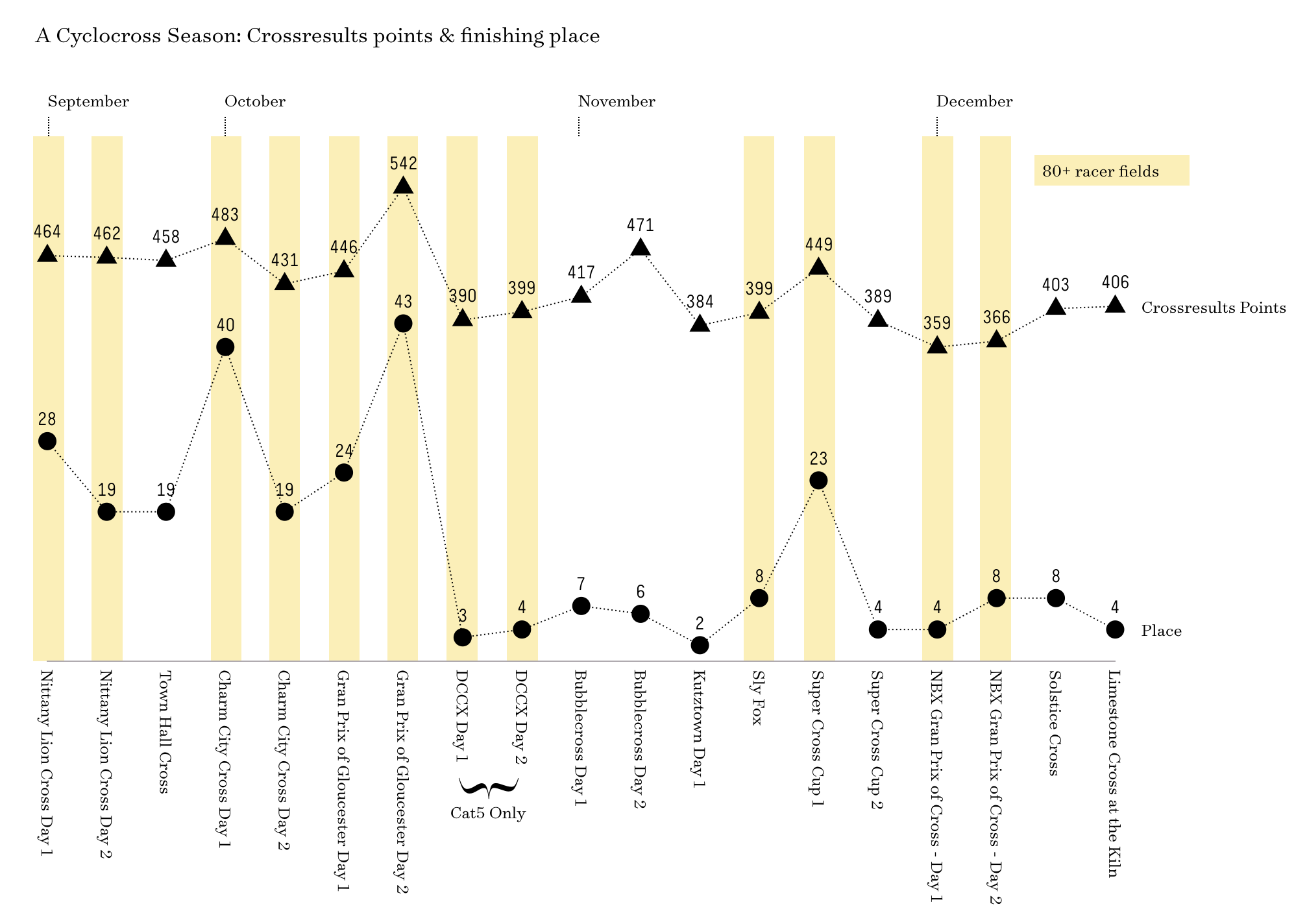 Do small races in order to improve your Crossresults points quickly. This will allow you to get a better starting position, which will allow you to be competitive in the bigger races.
My picks:
Bridgeton
Town Hall
Cheshire
Solstice
Limestone
Mid-majors. Mostly not on the UCI calendar, but with all the features of the big races. Super organization, hard courses, great parties, good fan engagement.
Do midsize races because they're fun. I felt less pressure to do well at these races, which actually seemed to improve my performance. Go figure!
My picks:
Whirlybird
Stoudt's
Hippocross
I'm sad to only have three midsize races on my calendar this year, all of which are new to me. So I'm kinda guessing/hoping that these fit the bill.
Building your schedule
If you're in the Northeast, Mid-Atlantic, or NYC, you're in luck. There are ~75 races in reasonable driving distance from you this season, and they're all catalogued in King Kog's 2017 Race Calendar, on Google Drive.
I started by identifying the races that I wanted to repeat from last year, and copying over key details (location, distance from NYC, date) into my own spreadsheet that I use for tracking my racing schedules. For scoping out new-to-me races, I check out previous BikeReg pages, event flyers, YouTube and Crossresults' linked photos to get a sense of the course, the event, and the type of race.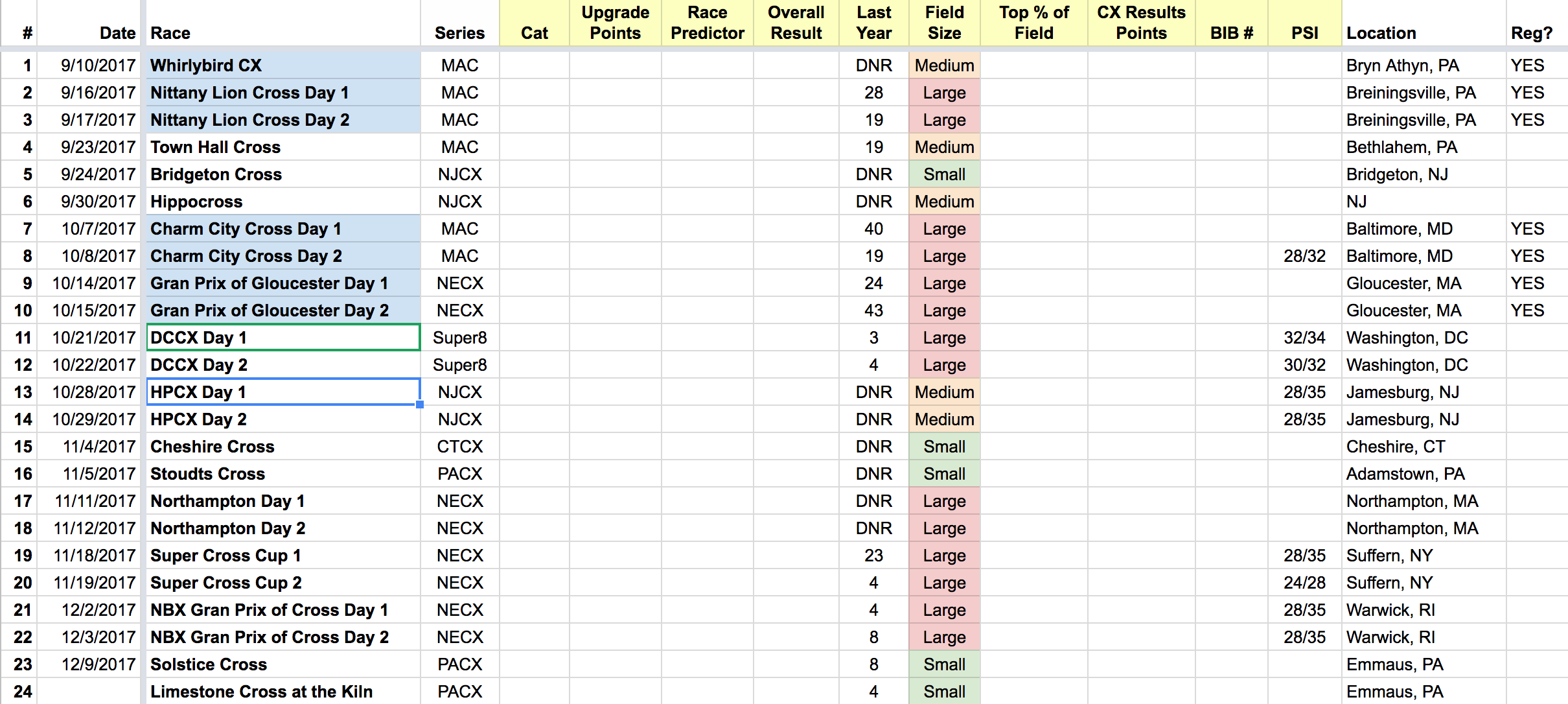 Choose a mix of all three types. As a reminder:
The big races build your skills and are a full weekend of fun.
The small races build your confidence and help you get better results (also, support your grassroots organizers!).
And the mid-majors bring the best of both worlds.
Have fun out there.
---
It's totally reasonable for a strong roadie or someone with a basic MTB background to be competitive quickly in CX, and probably go from first race to Cat3 in a single season, if they're willing to actually commit. If you can turn a bike AND you're strong, that could happen within 12-15 races! ↩︎

Do your warmdown! Don't skip it! Also, eat. And don't overdo it with the onsite beer. ↩︎

In other words, big spender, about as much as a big solo-accommodation trip overseas with Rapha. ↩︎